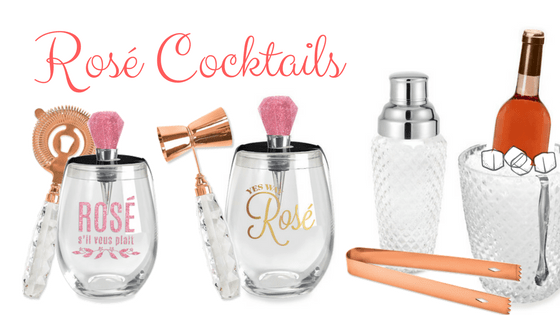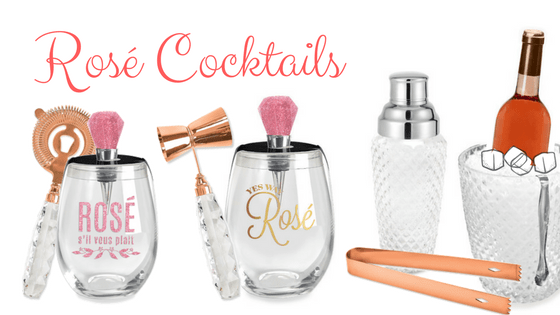 Rosé Cocktails
Rosé is the perfect summer drink – but you don't have to drink it on its own. Check out these 4 rosé cocktails for more ways to imbibe this delicious pink drink!
---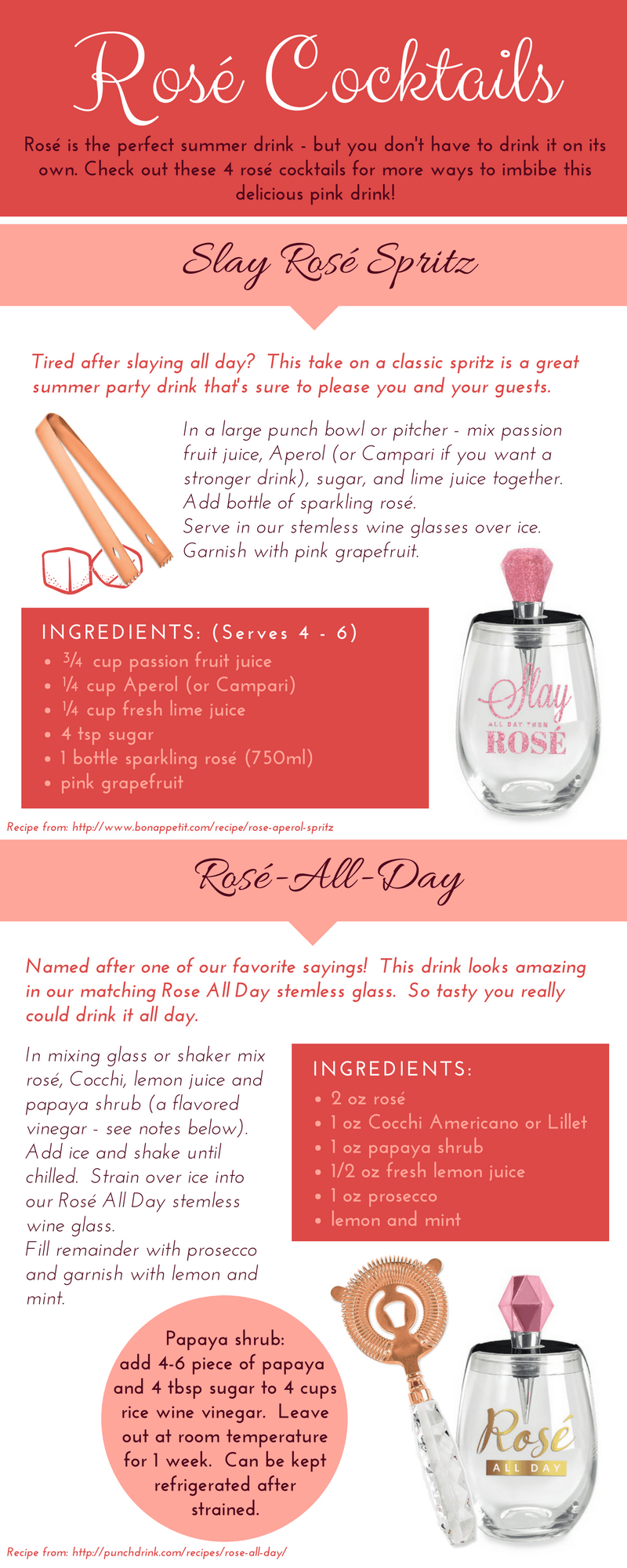 ---
SLAY ROSÉ SPRITZ
Tired after slaying all day?  This take on a classic spritz is a great summer party drink that's sure to please you and your guests.
INSTRUCTIONS:
In a large punch bowl or pitcher – mix passion fruit juice, Aperol (or Campari if you want a stronger drink), sugar, and lime juice together.  Add bottle of sparkling rosé.  Serve in our stemless wine glasses over ice.  Garnish with pink grapefruit.
INGREDIENTS:
¾ cup passion fruit juice
¼ cup Aperol (or Campari)
¼ cup fresh lime juice
4 tsp sugar
1 bottle sparkling rosé (750ml)
pink grapefruit
(Recipe from: http://www.bonappetit.com/recipe/rose-aperol-spritz)
ROSÉ ALL DAY 
Named after one of our favorite sayings!  This drink looks amazing in our matching Rose All Day stemless glass.  So tasty you really could drink it all day.
INSTRUCTIONS:
In mixing glass or shaker mix rosé, Cocchi, lemon juice and papaya shrub (a flavored vinegar – see notes below).
Add ice and shake until chilled.  Strain over ice into our Rosé All Day stemless wine glass.  
Fill remainder with prosecco and garnish with lemon and mint. 
Papaya shrub:
Add 4-6 piece of papaya and 4 tbsp sugar to 4 cups rice wine vinegar.  Leave out at room temperature for 1 week.  Can be kept refrigerated after strained.
INGREDIENTS:
2 oz rosé
1 oz Cocchi Americano or Lillet
1 oz papaya shrub
1/2 oz fresh lemon juice
1 oz prosecco
lemon and mint
Recipe from: http://punchdrink.com/recipes/rose-all-day/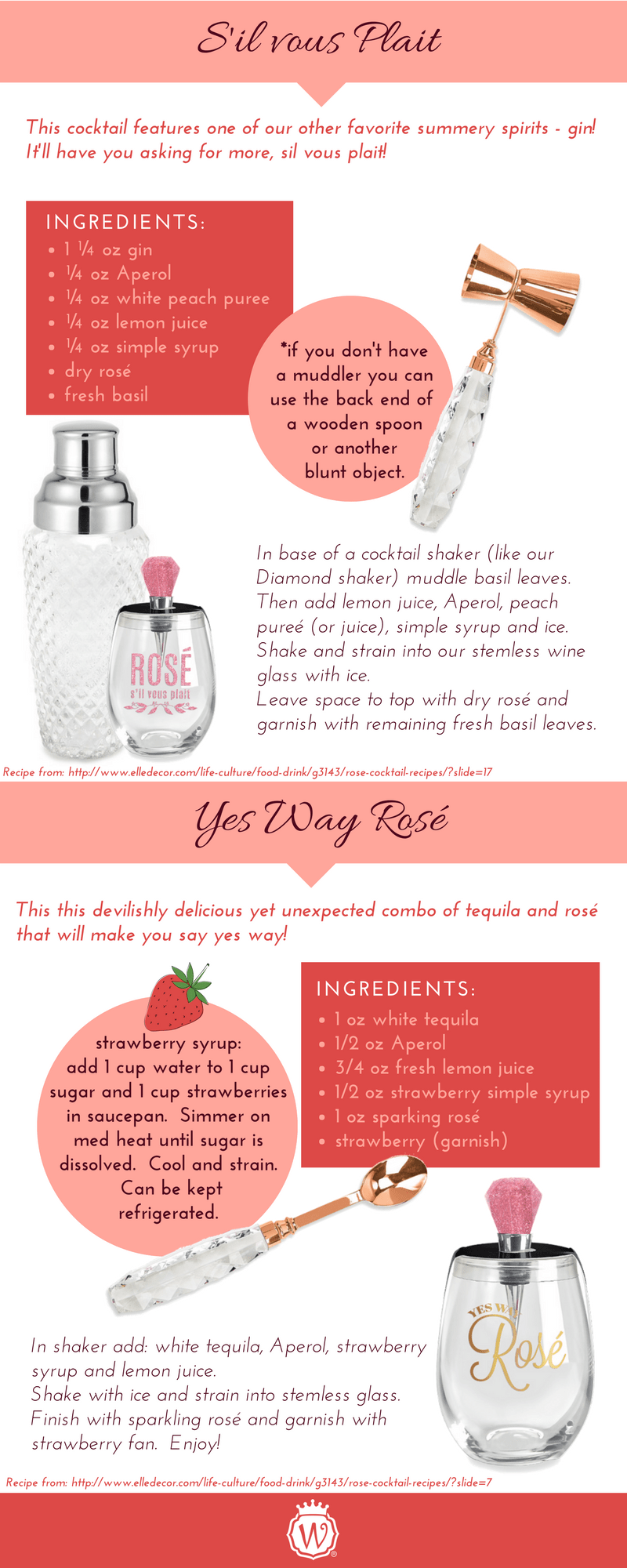 SIL VOUS PLAIT 
This cocktail features one of our other favorite summery spirits – gin! It'll have you asking for more, sil vous plait! 
INSTRUCTIONS:
In base of a cocktail shaker (like this one) muddle basil leaves.  Then add lemon juice, Aperol, peach pureé (or juice), simple syrup and ice.  Shake and strain into our stemless wine glass with ice.  Leave space to top with dry rosé and garnish with remaining fresh basil leaves
INGREDIENTS:
1 ¼ oz gin
¼ oz Aperol
¼ oz white peach puree
¼ oz lemon juice
¼ oz simple syrup
dry rosé
fresh basil
Recipe from: http://www.elledecor.com/life-culture/food-drink/g3143/rose-cocktail-recipes/?slide=17
YES WAY ROSÉ 
This this devilishly delicious yet unexpected combo of tequila and rosé that will make you say yes way!
INSTRUCTIONS:
In shaker add: white tequila, Aperol, strawberry syrup and lemon juice.  Shake with ice and strain into stemless glass.  Finish with sparkling rosé and garnish with strawberry fan.  Enjoy! 
strawberry syrup:
add 1 cup water to 1 cup sugar and 1 cup strawberries in saucepan.  Simmer on med heat until sugar is dissolved.  Cool and strain.  Can be kept refrigerated.
INGREDIENTS:
1 oz white tequila
1/2 oz Aperol
3/4 oz fresh lemon juice
1/2 oz strawberry simple syrup
1 oz sparking rosé
strawberry (garnish)
Recipe from: http://www.elledecor.com/life-culture/food-drink/g3143/rose-cocktail-recipes/?slide=7
---
PRODUCTS FEATURED: